SHW48500 Solar 48VDC Power System For Telecom Base Station With IP55 Protection

SOROTEC SHW48500 Series is a off-grid type Solar DC Power Systems ,which adopts advanced MCU microprocessor control and Max Power Point Tracking technology to provide reliable and high efficiency 220Vac input and 48Vdc output DC power supply for telecom equipments.Hot-swapable MPPT controller and Rectifier modular structure support max up to 6pcs parallel operation .Doorframe designed with waterproof structure perfectly suit for outdoor installation.

Application:
Power plant or substation power for controlling, protection and automatic device, emergency lighting, communications, steam turbine DC oil pump and so on independent DC systems. It can provide reliable power supply in the case of a power failure completely in plant or substation. The traditional DC systems connect battery pack and run with float charging mode. The new DC system run with silicon controlled rectifying power supply for battery.


Key Features:
1.Adopt advanced MCU microprocessor control technology
2.Advanced MPPT Technology.High converting efficiency higher than 97% for
minimizing energy loss.
3.Reversed current protection at night.over voltage and reverse polarity protection
4.Capable of selection different charging mode fo various types of batteries
5.Protection degree:IP55
6.Industy-leading power density compact size and high reliability
7.Doorframe designed with waterproof structure, posted on the seal and equipped with wateerproof lock in the door double insulation design
8.Cabine adopt quality galvanized wheet or aluminum coated steel sheet as material, surfce coating anti-UV power
9.Suitable for outdoor installation
10.With remote monitoring system operation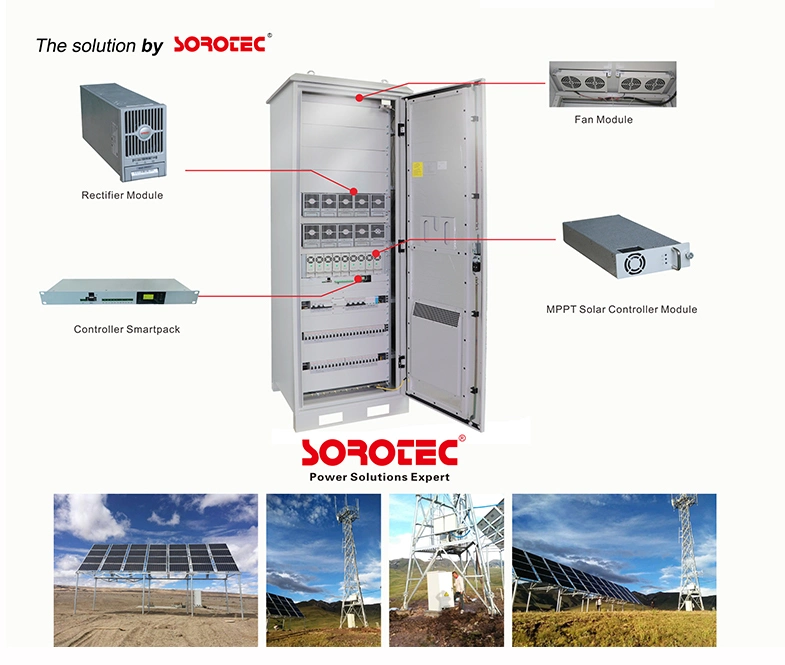 Fine dust-proof, water-proof features
According to the overall standard of design dust-proof and water-proof IP55
1.With sun protection, heat insulation, roof ventilation
2.With waterproof and the filtration dust inlet, the cabinet front door shutters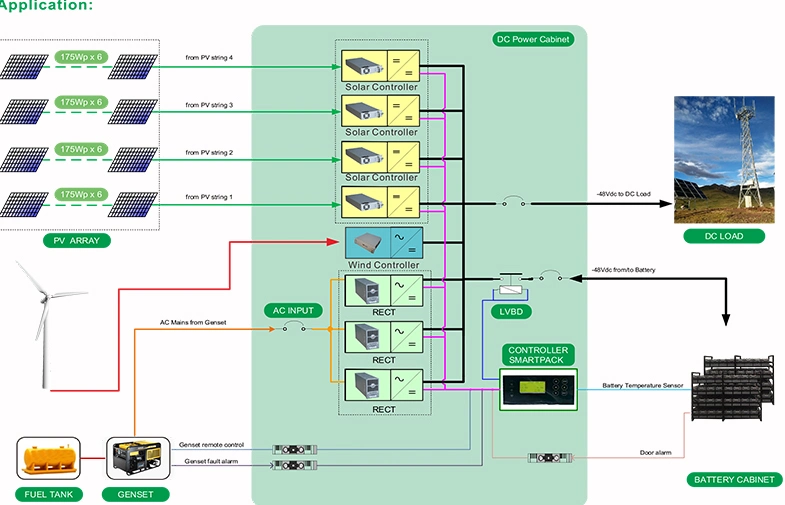 Detailes of SHW48500 Solar DC Power System:
SHW48500 Solar System
Rectifier Module(1-10) MPPT Solar Charge Controller(1-10)
INPUT
MPPT Range @Operating Voltage
60 ~150VDC
Maximum PV Array Power
3000W
Maximum Input Current
62A
OUTPUT
Nominal Battery Voltage
42-58VDC
Maximum Charge Current
50A(max:61A)
Maximum Efficiency
98%
Charging Method
Three stages: bulk, absorption and floating
PROTECTION
Overload Protection
> 110% : audible alarm
Overcharge Protection
Yes
Polarity Reversal Protection @Solar Cell & Battery
Yes
INDICATORS
LCD Panel
LCD panel indicating solar power, load level, battery voltage/capacity, charging current, and fault conditions
LED Display
Three indicators for solar, charging, and load status
Rectifier Module
Rated input voltage
220V
AC input Voltage range AC
90-290V
input Frequency range
45-65HZ
Power factor
≥0.99
Efficiency
>92%
Rated output voltage
48V
Rated output current
0-50A
Voltage range
42-58V
WIND CONTROLLER:
Input Power
1KW/2KW
Input Voltage
150-300VAC
Output Voltage
48VDC
Ouput Current
30A/50A
ENVIRONMENT
Humidity
0 ~ 100% RH (No condensing)
Operating Temperature
-20°C to 55°C
Storage Temperature
-40°C to 75°C
Altitude
0 ~ 3000 m