PLANT DATA:
Production capacity: 1 to 200Nm³/H
Purity: 93+/-3%
Pressure: 0.25~15MPa
Brand Name: TECHRAY
Certification: ISO
Full Service Provided: Overseas service center available
Dew point: -45ºC - -60ºC
PSA Oxygen Generator for cylinder making & filling system
TECHRAY oxygen generator for cylinder making & filling system is PSA oxygen generator and oxygen compressor,which can produce oxygen and fill the oxygen cylinder on site. It is more economy, more convenience, more independent and one-stop generation and storage center. You can fill the cylinder
by yourself as you want.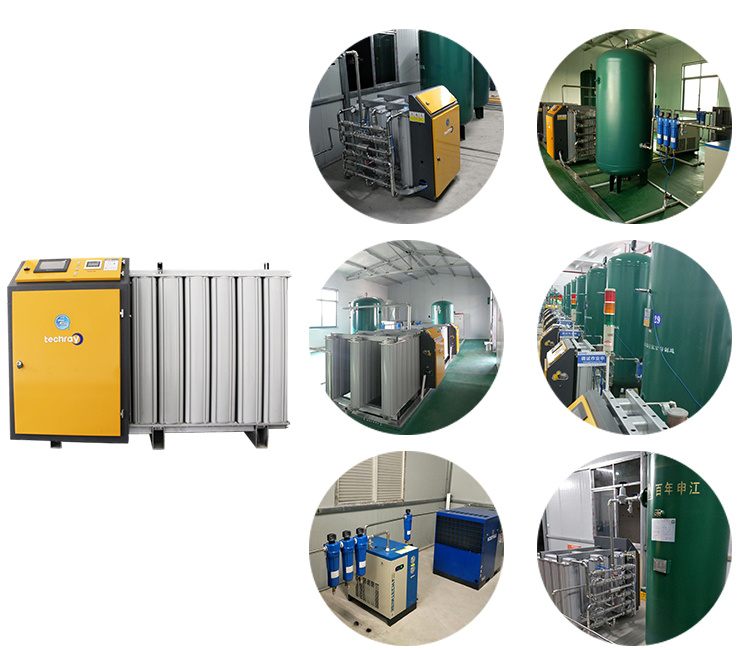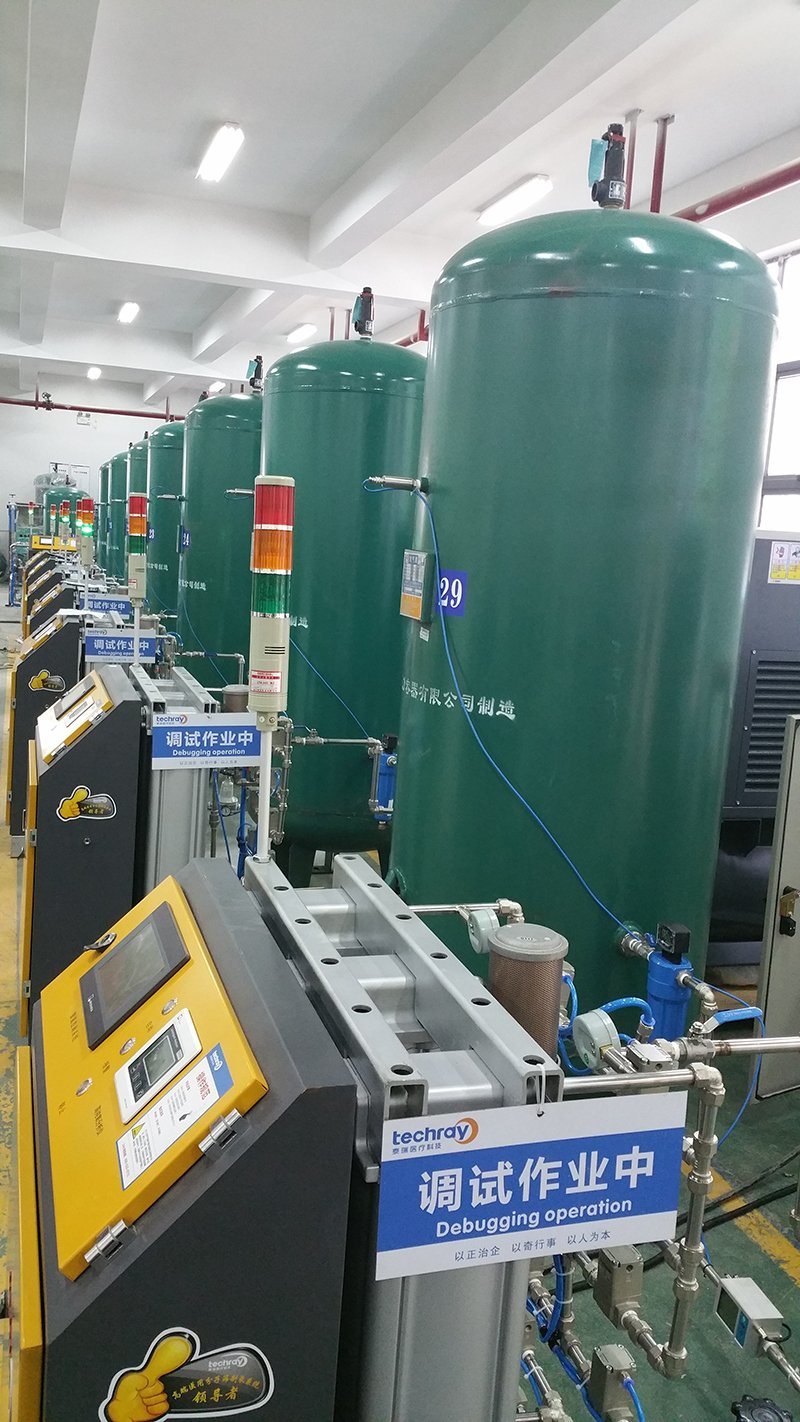 Work Principle :
TECHRAY's the PSA technology process for the generation of oxygen gas from compressed air utilizes the ability of Zeolite Molecular Sieve (ZMS) to absorb mainly nitrogen. While nitrogen concentrates in the pore system of the ZMS, the qualified purity of oxygen will be produced.




ADVANTAGE:
Unique modular oxygen generator and euipped air processor, which can be solving the problems of dewatering, oil-removing and temperature control

Easy installation

Advanced PSA technology, reliable and economy

Fully automatic control

More advanced and more economical air separation modules. extremely low power consumption

Convenient maintaining for our whole system

Customized based on the hospital's requirement
Why Buy PSA Oxygen Generator From Us?
VS

Traditional twin towers PSA oxygen generator system

TECHRAY PSA modular oxygen generator system

Technology

Easy to be pulverized

Prevent powdering

Unstable system

Flow setting

Imprecise control

Precise control

Operating noise

Less noise

Inconvenient moving, maintaining and repairing

Convenient maintaining

Complex procedure of certification of pressure vessel

No need certification of pressure vessel

Core Part

Twin towers generator

Air processor and intelligent modular oxygen generator

Structure

Single structure

Front air handling system and rear air handling system

Environment

Single environment, No customized

Customized according to different area and environments
SERVICE:
Full service for design, produce, installation and commissioning as to the customers's requirements.

Providing professional training for engineers who take care of the plant room.

Dispatching our technical staff to your country for technical services till the finished products as to the customers's requirements.

Providing long-term after-sales service.
COMPANY PROFILE:
Techray Medical Technology Co., Ltd. is an innovative manufacturer which integrates the research, design, production, sales, installation, commissioning and after-sales for PSA oxygen generator and cylinder filling sytems, Ward Nursing system in Changsha, Hunan (China). The company serves oxygen health industry with rugged and reliable medical PSA Oxygen Generators. Our systems are at work, accurately & efficiently serving users' oxygen requirements in China, India, Africa, Indonesia, Pakistan, Bangladesh, Southeast Asia and Mid-East. Founded in 2007,our company has more than a decade of experience of innovating systems for hospitals. By associating with us, customers will be associating their name with one of the world's leader in systems based on Pressure Swing Adsorption (PSA) Technology. We are a team of 400 passionate people, who are committed to achieve customer satisfaction through our core values of Open Communication, Innovation and Professionalism