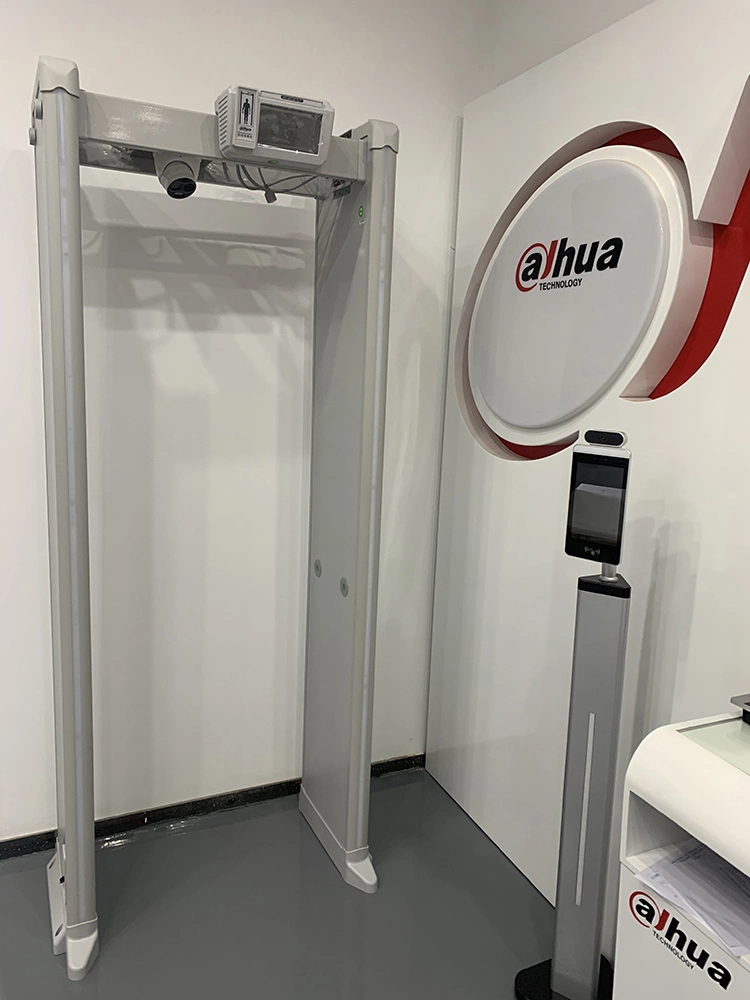 The Temperature Monitoring walk-through metal detector is a high-performance and high-sensitivity security gate that can detect body temperature. The device has high metal detection sensitivity, light weight, strong anti-interference, and stable performance.It uses high-strength special materials which is light-weighted and easy to transport and install. The Device has a modular design and is manufactured on the unified assembly lines, so it can ensure the good stability. It also has delivers intuitive interface and simple use, so no operation training is required to use it. Featuring dual lens, fixed camera, this series provides an all-in-one solution for capturing video surveillance for indoor and outdoor applications. Together with Thermal and Visible Technology, the camera is the perfect solution for dark, small area monitoring applications. The series combines one thermal camera for monitoring in total darkness and one visible camera with Smart IR for confirming details.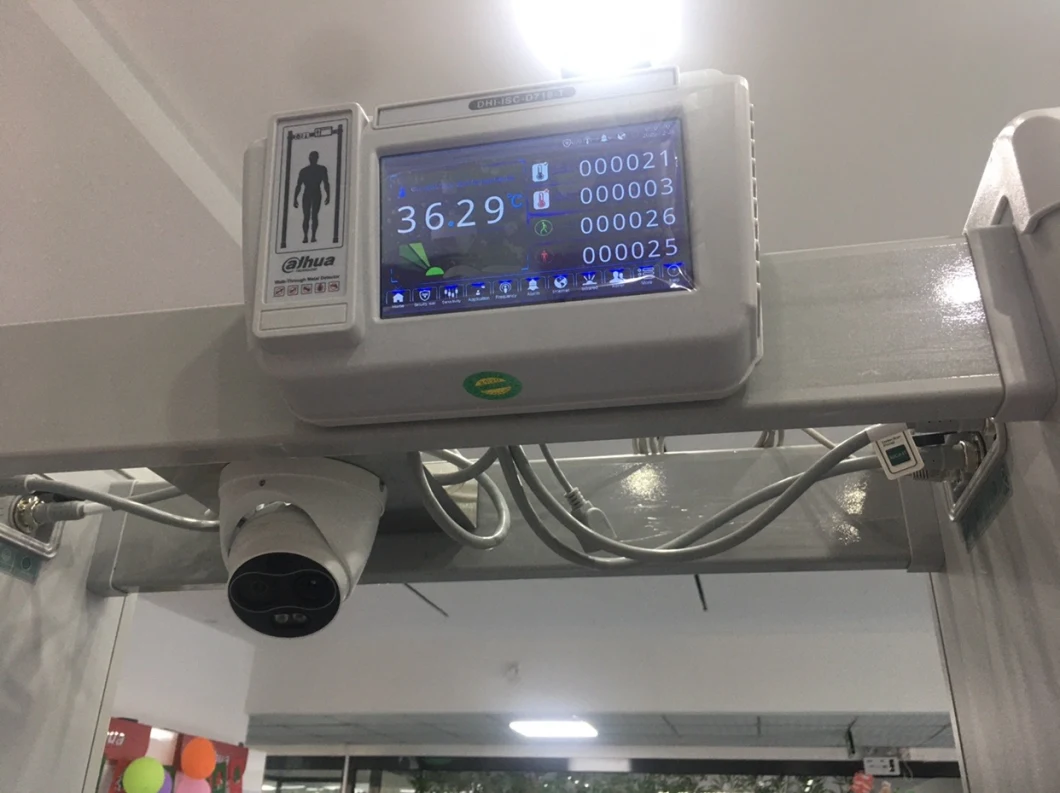 The Temperature Monitoring walk-through metal detector uses IR and electromagnetic field to detect body temperature and carry-on metal articles, and gives sound and light alarm to indicate that the body temperature or carry-on metal is beyond a certain threshold. It consists of a temperature monitoring camera, host, high-frequency signal generator, signal receiver, and infrared sensor, with a beautiful appearance, strong metal detection capability, 18 detection zones, a unique Internet remote management system, and light weight. It is currently a leading metal detection door in the market.

ntelligent Video System (IVS)
With built-in intelligent video analytics, the camera has the ability to detect and analyze moving objects for improved video
surveillance. The camera provides optional standard intelligence at the edge allowing detection of multiple object behaviors such
as motion detection. IVS also supports tripwire analytics, allowing the camera to detect when a predetermined line has been crossed.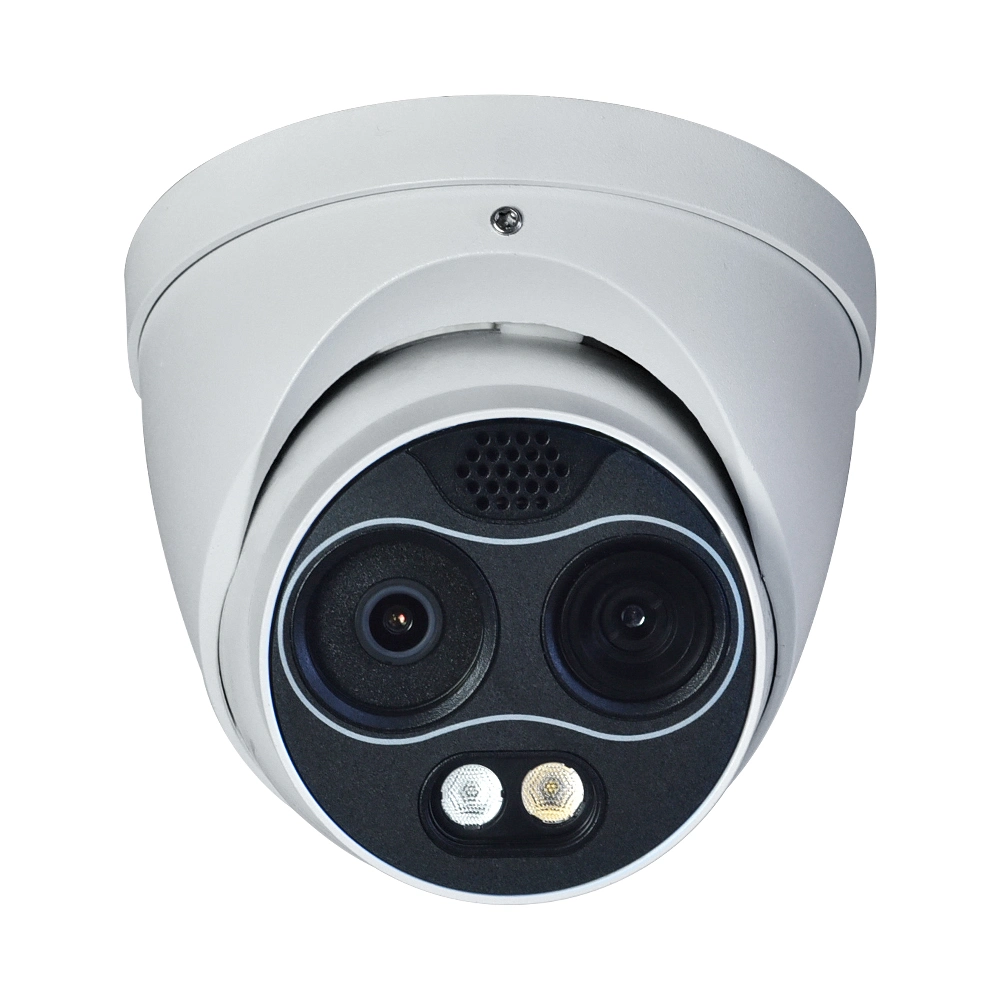 · Uncooled VOx thermal sensor technology ·
Athermalized lens (thermal camera), focus-free ·
1/2.7'' 4Megapixel progressive scan
Support ROI, motion detection, color palettes ·
Smoking and call behaviour detection · Support fire detection & alarm ·
Built-in 1/1 alarm in/out · Micro SD memory, IP67, PoE ·
Smart linkage with strobe light & audio ·Dual image fusion (visible and
thermal images)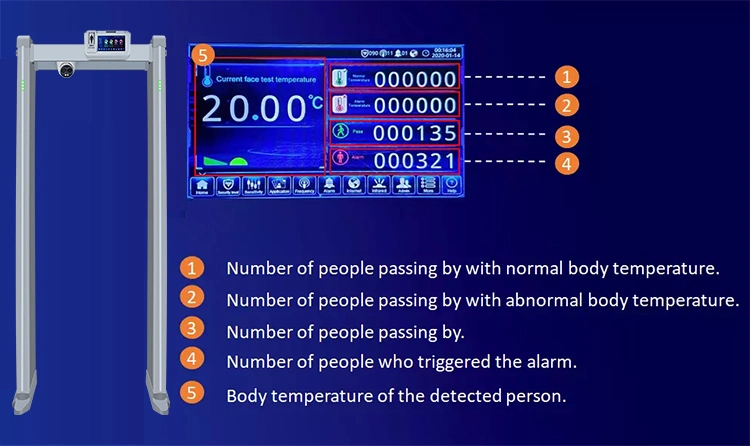 Walk-through Metal Detector
Two sets of high-brightness red-green LEDs, super bright double-row area indicator lights and independent interactive 18-zone function with 12 detectors
· 7-inch full-color touch-screen LCD display ·
Easy to install and use with modular design ·
Safe use with low voltage design ·
Stable running with anti-loose aviation power plug
High-strength Fire retardant High-pressure Laminate(HPL) material ·
Monitor and show background interference in real time ·
Count the numbers of passes and alarms respectively ·
Count the numbers of people with normal body temperature and abnormal body temperature alarm respectively · Monitor and show body temperate in real time ·
Trigger sound and light warning for body temperate alarm ·
72 application scenarios and extra 16 customize scenarios ·
Zone sensitivity adjustable from 0 to 255 ·
Security degree adjustable from 0 to 99 ·
100 working frequencies selectable ·
Alarm sound volume adjustable from 0 to 10; support mute mode · 17 alarm sound types ·
Multiple start-stop modes for IR ·
Remote monitoring and configuration through network
| | |
| --- | --- |
| | Dahua ISC-D718-T ISC-D733-T poeple counting camera Temperature Monitoring Walk-through Metal Detector security gate |
| | 2210 mm × 928 mm × 572 mm (87.0" × 36.5" × 22.5") |
| | 1950 mm × 714 mm × 572 mm (76.8" × 28.1" × 22.5") |
| | 2409 mm × 868 mm × 304 mm (94.8" × 34.2" × 12.0") |
| | |
| | |
| | 12V, 100-240V AC Power adapter included in the package |
| | |
| Standby Power Consumption | |
| | -20°C to +65°C (-4°F to +149°F) |
| | |
| | -20°C to +70°C (-4°F to +158°F) |
| | |
| | |
| | |
| | Aviation power connector, 1 on each side |
| Bottom Panel Network Port | |
| | |
| | |
| | |
| | |
| | |
| | CE-EMC: Electromagnetic Compatibility Directive 2014/30/EU |
| | FCC: 47 CFR FCC Part 15, Subpart B |
| Camera Technical Specification | |
| | |
| | Vanadium Oxide Uncooled FPA |
| | |
| | |
| | |
| Thermal Sensitivity (NETD) | < 50 mK (@f/1.0, 25Hz, 300K) |
| | |
| | |
| | |
| | |
| | |
| | |
| | |
| | |
| | |
| | |
| | |
| | |
| | |
| | |
| | |
| | |
| | 18 (Whitehot/Blackhot/Ironrow/Icefire/Fusion/Rainbow/Globow/Iconbow1/Iconbow2, etc.) |
| | |
| | |
| | |
| | |
| | |
| | |
| | |
| | |
| | |
| | |
| | |
| | |
| | |
| | |
| | |
| | |
| | |
| | |
| | Auto (ICR); Color and B/W |
| | |
| | |
| | |
| | Auto/Manual/Indoor/Outdoor/Tracking/Street lamp/Natural |
| | |
| | |
| | |
| | |
| | |
| | |
| | |
| | |
| | |
| | |
| | Human & vehicle classification |
| | |
| | |
| | |
| | H.265/H.264M/H.264H/H.264B/MJEPG |
| | |
| | Main Stream: 1280 × 960 (1.3M)/XVGA (1024 × 768)/ |
| | VGA (640 × 480)/256 × 192, 1280 × 960 by default |
| | Sub Stream: VGA (640 × 480)/256 × 192, 256 × 192 by |
| | |
| | |
| | Main Stream: 2336 × 1752/1080p (1920 × 1080)/720p |
| | (1280 × 720)/D1 (704 × 576), 2336 × 1752 by default |
| | Sub Stream: 720p (1280 × 720)/D1 (704 × 576)/CIF (352 |
| | × 288), 352 × 288 by default |
| | |
| | 50Hz: (main stream) 1 fps-25 fps adjustable, 25 fps by |
| | default; (sub stream) 1 fps-25 fps adjustable, 15 fps by |
| | |
| | 60Hz: (main stream) 1 fps-30 fps adjustable, 30 fps by |
| | default; (sub stream) 1fps-30 fps adjustable, 15 fps by |
| | |
| | |
| | 50Hz: (main stream) 1 fps-25 fps adjustable, 25 fps by |
| | default; (sub stream) 1 fps-25 fps adjustable, 15 fps by |
| | |
| | 60Hz: (main stream) 1 fps-30 fps adjustable, 30 fps by |
| | default; (sub stream) 1 fps-30 fps adjustable, 15 fps by |
| | |
| | |
| | |
| | HTTPS; HTTP; TCP; ARP; RTSP; RTP; UDP; RTCP; SMTP; |
| | FTP; DHCP; DNS; DDNS; PPPOE; IPv4/v6; SNMP; QoS; |
| | |
| | |
| | |
| | IE: IE8 and the later, and explorer with IE core |
| | Google: 42 and the earlier |
| | Firefox: 42 and the earlier |
| | |
| | Authorized username and password; attached MAC |
| | address; encrypted HTTPS; IEEE 802.1x; controlled |
| | |
| | |
| | CE: EN55032:2015; EN61000-3-2:2014 |
| | FCC:CFR 47 FCC Part15 subpart B; ANSI C63.4-2014 |
| | |
| | 1 10M/100M Ethernet port (RJ-45) |
| | |
| | |
| | |
| | |
| | Max: < 13W (LED on, heater on) |
| | |
| | -30°C to +60°C (-22°F to +140°F) |
| | -30°C to +70°C (-22°F to +158°F) |
| | |
| | IP67, anti-surge 6kV, anti-elctrostatic 6kV (touched by |
| | objects), anti-elctrostatic 8KV (air) |
| | |
| | 122 mm × 122 mm × 112 mm (4.8" × 4.8" × 4.41") |
| | 155 mm × 155 mm × 135 mm (6.10" × 6.10" × 5.31") |
| | |
| | |