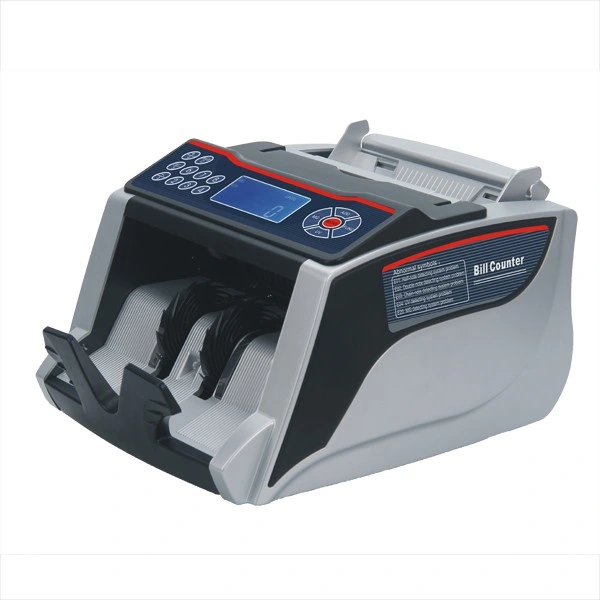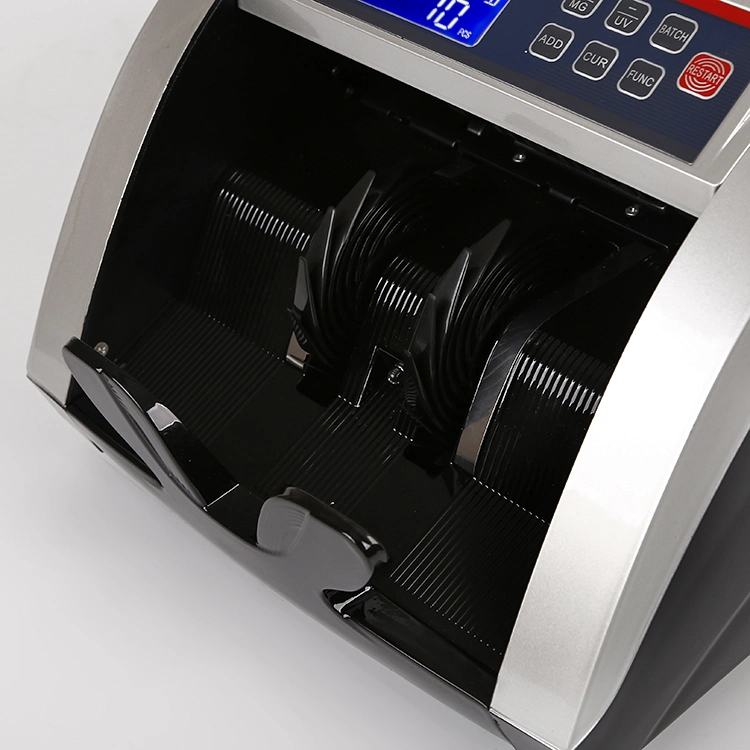 Specification

Bill Counter Money Counter Banknote Counter Currency Counter with UV+MG+IR

portable bank using money counter Bill gates money counter Money Counter and Detector with LCD display

Counting Speed
>900PCS/MINUTE
Capacity of Sending & Receiving Desk
>130PCS
Display Range
1~999PCS
Presetting Display Range
1~999PCS
Banknote Measure
Length 100-190mm*Width 50-90mm
Thickness
0.075-0.15mm
Banknote Sending Mode
Friction Disparting
Working Power
220V±10% 50HZ/110V±10% 60HZ
Empty Load Working Noise
<60DB
Power
<70W
Working Temperature
0ºC~40ºC
Certification
CCC&CE&ROHS
Display
LCD
Net Weight
6.5kg
RH humidity
40%-90%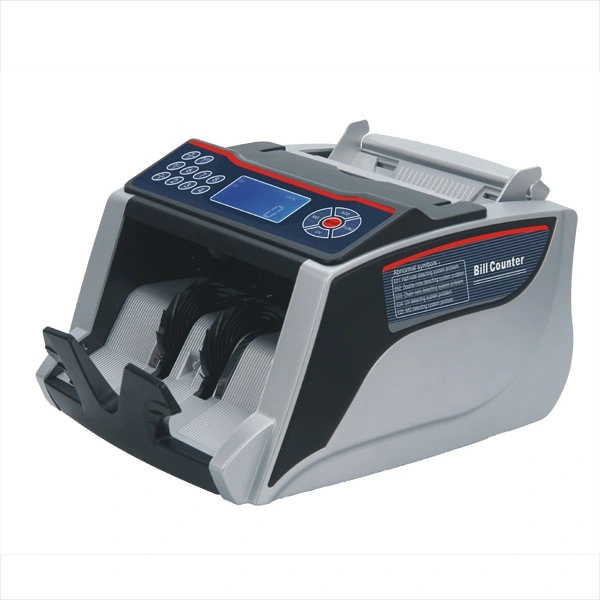 Product Description
·Automatic start,stop and clear
·Fluorescence Detecting
·Magnetic Detecting
·Digital Detecting
·Safe Cable Detecting
·Preset and Add
·Count Comparative Function
·Self Diagnosis When Start
·Double notes detection, half notes (IR) detection
·Suitable for most currencies in the world
·Continue working for 8 hours.
·Top choice for bank and financial market.
·Steamline design,high quality and elegant appearance.
·Display with anti-glare design manifest screen clearly even under sunlight.
·Enlarged and separated buttons clarify vision and simple operation.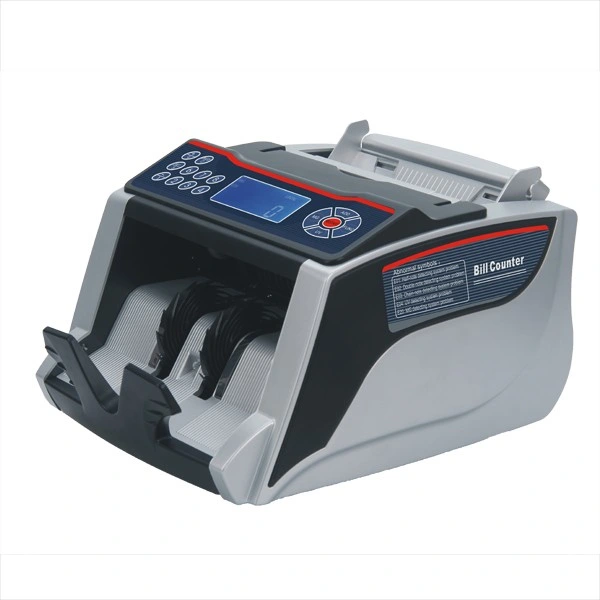 Specification
Wholesale LCD bill counter with CE,ROHS,CCC certificate
Counting Speed
>900PCS/MINUTE
Capacity of Sending & Receiving Desk
>130PCS
Display Range
1~999PCS
Presetting Display Range
1~999PCS
Banknote Measure
Length 100-190mm*Width 50-90mm
Thickness
0.075-0.15mm
Banknote Sending Mode
Friction Disparting
Working Power
220V±10% 50HZ/110V±10% 60HZ
Empty Load Working Noise
<60DB
Power
<70W
Working Temperature
0ºC~40ºC
Certification
CCC&CE&ROHS
Display
LCD
Net Weight
kg
RH humidity
40%-90%
Function
A. MG1:For counting and detecting the banknote that's low in magnetism

B. MG 2:For counting and detecting banknote that's strong in magnetism like US dollars.

C. Counting:For counting and spectrum-detecting banknote that's without magnetism

D. Counting:For "UV" detecting; generally keep the function on while counting.

E. Preset:Press the preset button to activate the function; Now press "+" or "-" button to preset the counting batch as required. The counter will stop automatically while completing the setup pieces; and starting again after taking away the banknote from stacker. Press the "Select" key to cancel the function.
(Note: For 3-digit counting display, the preset range is from 1 to 999; and for 4-digit counting display, range from 1 to 9999.)

F. ADD: The counter may add up the counting result each time at this mode. Only when taking away the banknote from stacker and pressing the "reset" key to clear up the result, the counter can start counting from zero and accumulating again.
Packaging & Delivery
Packaging Inner packing:1 PC/COLOR BOX
Details Outer packing:2 PCS/CTN